Birds Of Prey Outdoor Photography Workshop
Available Sessions:
Morning Only – 10 AM to 12.00PM
Weekday Workshops Available – £135 for up to 2 people. (Extra people charged at £45 per person) Mornings Only. Mon to Fri only.
Public Shared Weekend Workshops Available – £65 per person. Up to 15 people.
Private Weekend Workshops Available – £250 for up to 4 people.
Venue: Liberty's Centre, Crow Lane, Ringwood, Hampshire. BH24 3EA (Zoo Licence Number: 1009/2)
Your chance to photograph some of the beautiful birds of prey that reside at Liberty's Centre near Ringwood, in the New Forest, under outdoor natural light conditions without cages or wire in the way. On these days we showcase some of the resident birds at Liberty's Centre both flying and static out in our flying field. These days are suitable for photographers of all levels and an experienced photographer is always on hand to help you out if you would like any assistance or advice.
The day starts at 10.00 AM with a quick safety talk after which the birds will be displayed for you with a mixture of static and flying birds through out the morning. The Photo Day ends at midday when we have to clear the field for the public flying demonstration which lasts around half an hour or so. You are welcome to stay for the public flying demonstration plus any others that might be held during the day (usually around 2.30 PM) making this a great day out with plenty of opportunity for those in-flight pictures.
There is ample parking at the Centre as well as a Café and Toilet facilities for visitors to Liberty's.
---
---
Recommended Camera Equipment:  For these days we recommend a good DSLR or Mirrorless Camera with a reasonable frame rate in continuous shooting mode and a good auto focus. For lenses something along the lines of 70 – 200mm, 70 – 300mm and 100 – 400 or higher will allow you the most options.
We recommend plenty of memory and batteries as this day will see most people using continuous shooting modes and continuous (servo) auto focus for much of the day.
---
---
Cost
Public Weekend Organised Photo Days:  The weekend shared Outdoor Birds Of Prey Workshop Photo Days: are charged at £65 per person with a maximum number of 15 people attending.
Private "Weekday Workshops": These days are available as a Weekday Workshop from Monday to Friday at a cost of £135 for up to 2 people booking together with any extra people charged at £45 per person up to a maximum of 4 people. For full details about our Weekday Workshops please click HERE
Private Weekend Workshops: These can be arranged on a mutually agreed weekend date at a cost of £250 for up to 4 people for the session.
Under 18 years old must be accompanied by an adult.
---
Available Dates: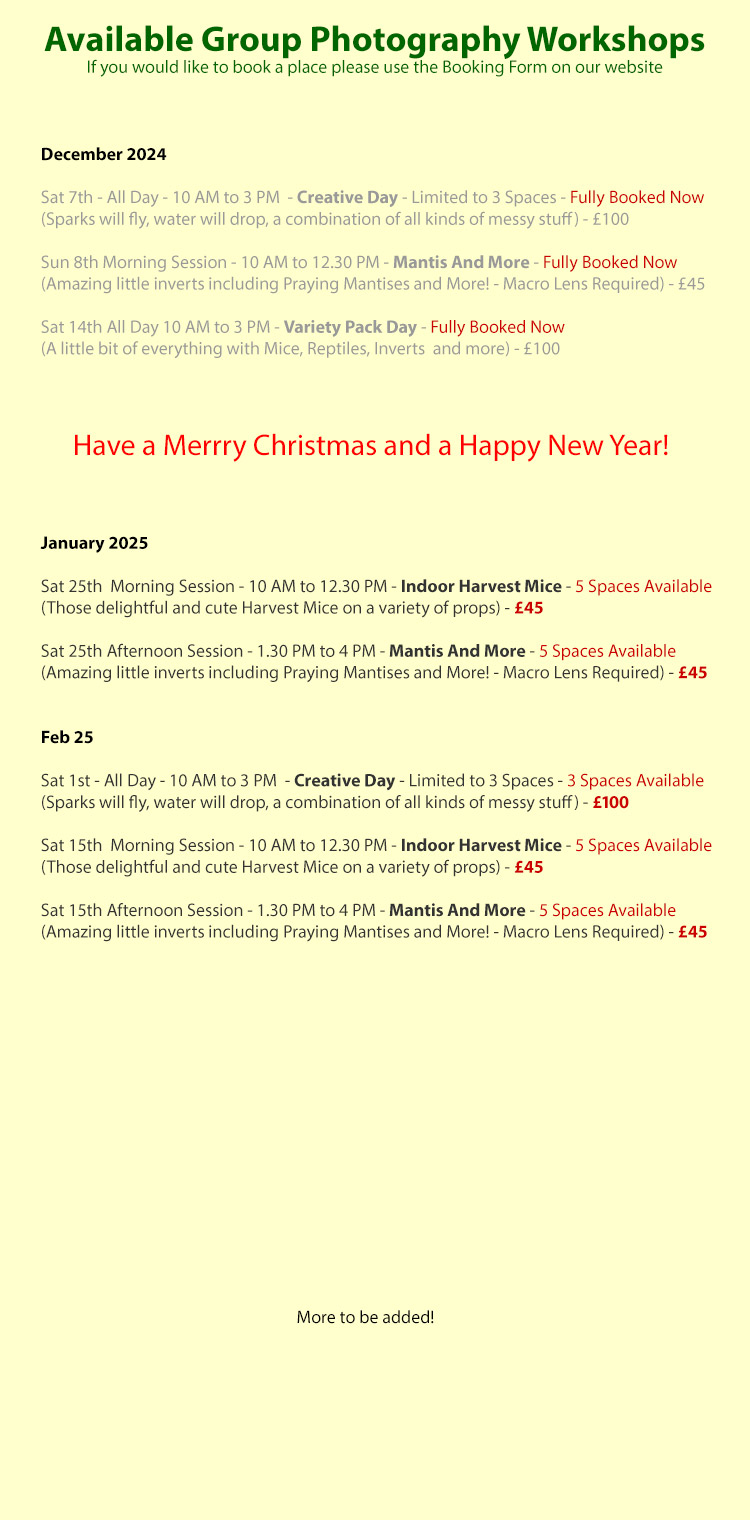 ---