Liberty's Harvest Mouse Indoor Workshops
The Harvest Mouse indoor photography workshops have become our most popular photo days and are an amazing opportunity to photograph these tiny, cute, fast, but fascinating little creatures in our indoor purpose built Photography Room at Liberty's Centre near Ringwood. These little characters are fun and full of mischief as well as being very photogenic making them ideal little models posing in front of your camera.
Your day will start with a quick introduction and safety talk  before we start photographing the mice. After this the mice will be in their purpose built enclosure where you can photograph them interacting with the props provided for them. Harvest Mice are naturally very inquisitive as well as being excellent climbers with their prehensile tails making for some good opportunities to photograph them as they explore and forage for food. For the final half hour the mice are free to do as they please on one of the natural prop boards for some more candid photos. These days are suitable for photographers of all experience levels and Private or "Weekday Workshop" bookings can be tailored to your requirements.
As always a friendly experienced photographer will be on hand to guide you and help out with any questions that may arise during the session.
---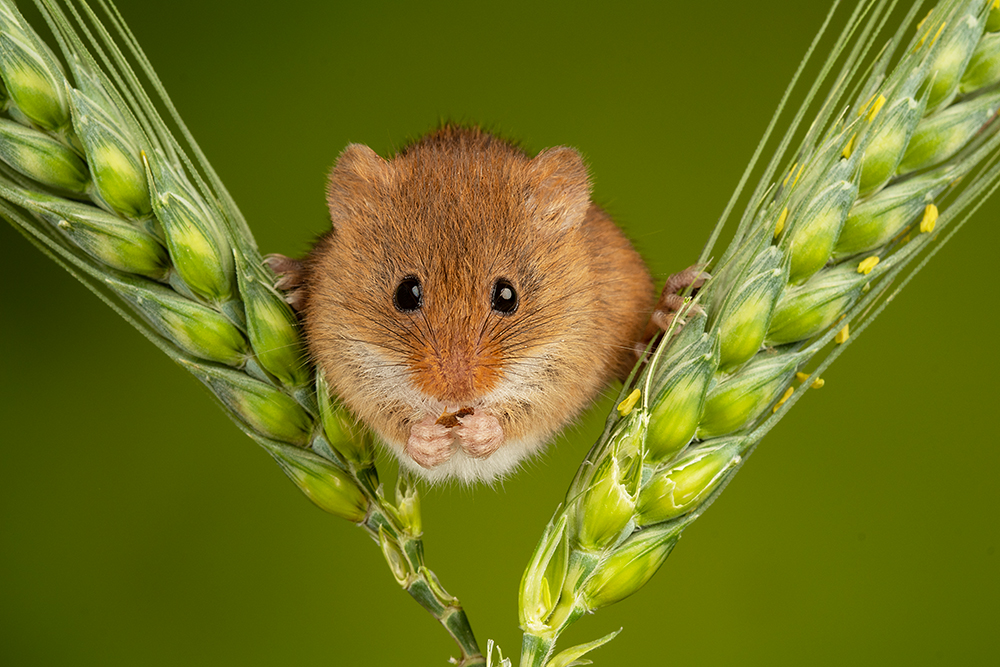 ---
Available Sessions are:
Morning Session – 10 AM to 12.30 PM
Afternoon Session – 1.30 PM to 4.00 PM
Props
Together with all our animals at the Centre the health and well being of our Harvest Mice always comes first and we do not force them to do anything they don't want to do or put them in harms way with anything that might cause them distress. We do not allow the photographers or guests to have any physical contact with the animals.
You are welcome to bring any props that you might want to use on the day but please be aware that these will be checked for safety before being used. We have had people bring Apples, Pears, Fairy Houses and Fairy Garden props, a Cheeseboard (!), all sorts of Dolls House props as well as various Seasonal props for making cards. Let your imagination run riot (remember a Harvest Mouse is only around the size of an adult's thumb with a tail around the same length) or use more natural props such as Wheat Stalks, Moss and Hedgerow cuttings.
Location And Postcode: Liberty's Owl, Raptor And Reptile Centre, Crow Lane, Ringwood, Hampshire. BH24 3DZ   (Zoo Licence Number: 1009/2)
---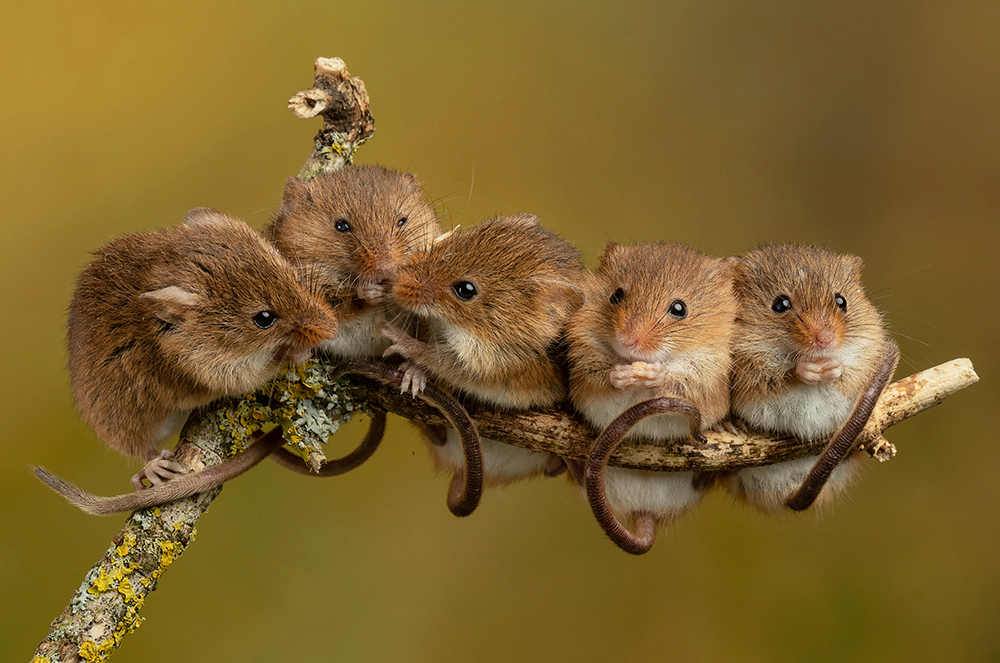 ---
Recommended Camera Equipment: You will need a DSLR camera, Compact System Camera or a high end "bridge" camera that is capable of being set to manual exposure with the ability to control ISO, Aperture and Shutter Speed. We suggest that if you are unfamiliar with the controls you check your camera's instruction manual before your day. For cameras with electronic view finders it would be helpful to be able to turn off "exposure simulation" preview if possible.
The camera will also need to be able to accept a standard flash "hot-shoe" fitting flash trigger.
Lenses we recommend are either a macro lens of around 100 mm focal length or a zoom lens of around 70 – 300 or more focal length.
We supply a range of "standard" props and seasonal props such as wheat stalks, teasels, poppy heads and a variety of twigs – if you require specific props such as flowers we would suggest that you bring them with you.
---
Cost: The weekend shared Harvest Mouse Macro Workshop Photo Days: are charged at £60 per person with a maximum number of 4 people attending.
Private "Weekday Workshops": These days are available as a Weekday Workshop from Monday to Friday at a cost of £75 for one person or £125 for 2 people booking together with any extra people charged at £45 per person up to a maximum of 4 people. For full details about our Weekday Workshops please click HERE
Private Weekend Workshops: These can be arranged on a mutually agreed weekend date at a cost of £225 for up to 4 people for the session.
Under 18 years old must be accompanied by an adult.
---
Available Dates: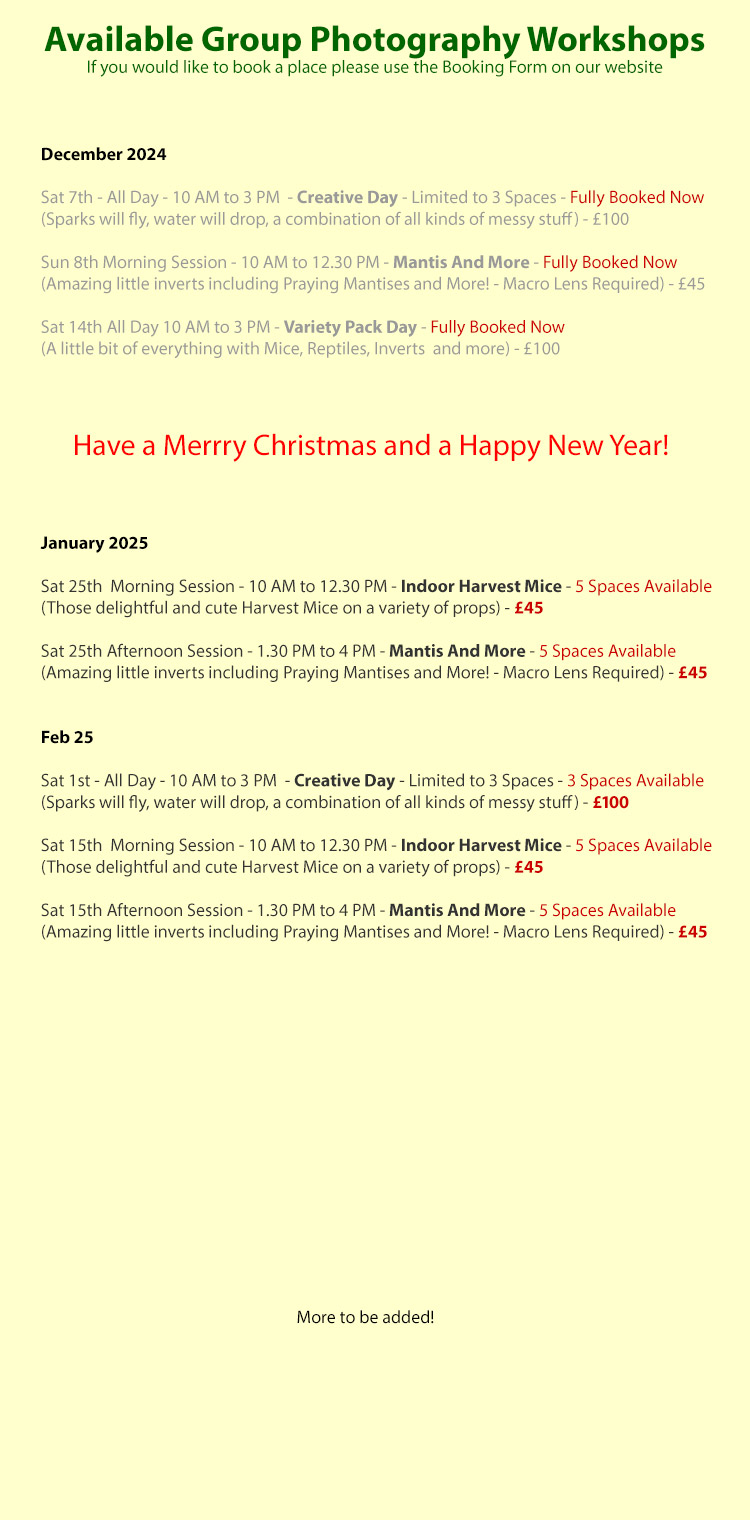 ---