Liberty's Birds Of Prey Studio Photo Day
Available Sessions:
Morning Only – 10 AM to 12.30PM
Weekday Workshops Available – £135 for up to 2 people. (Extra people charged at £45 per person) Mornings Only. Mon to Fri only.
Public Shared Weekend Workshops Available – £65 per person. (vouchers accepted)
Private Weekend Workshops Available – £250 for up to 4 people.
Venue: Liberty's Centre, Crow Lane, Ringwood, Hampshire. BH24 3DZ (Zoo Licence Number: 1009/2)
This day is a great opportunity to photograph some of the beautiful birds of prey that reside at Liberty's Centre near Ringwood, in the New Forest, under studio conditions for something just a little bit different. Owls, hawks and falcons in a purpose built indoor studio using high quality lighting makes for some visually stunning images. This day is suitable for photographers of all abilities and as always an experienced photographer is on hand should you need any help.
Your day will start with a brief introduction and a quick safety talk before the birds are brought in to be photographed using our professional quality equipment. During the session you will photograph a number of different birds of prey using a variety of lighting set-ups and backdrops. Shooting under these conditions should enable you take as photographs that are as good as your camera and lens can achieve and it is possible to get some truly stunning images of these creatures.
These days are not weather dependent but can only take place during the morning.
---
---
Recommended Camera Equipment: You will need a DSLR camera, Compact System Camera or a high end "bridge" camera that is capable of being set to manual exposure with the ability to control ISO, Aperture and Shutter Speed. We suggest that if you are unfamiliar with the controls you check your camera's instruction manual before your day. For cameras with electronic view finders it would be helpful to be able to turn off "exposure simulation" preview if possible.
The camera will also need to be able to accept a standard flash "hot-shoe" fitting flash trigger.
Lenses we recommend are a zoom lens of around 70 – 200 mm or more focal length.
---
---
Cost
Public Weekend Organised Photo Days:  The weekend shared Studio Birds Of Prey Workshop Photo Days: are charged at £65 per person with a maximum number of 5 people attending.
Private "Weekday Workshops": These days are available as a Weekday Workshop from Monday to Friday at a cost of £135 for up to 2 people booking together with any extra people charged at £45 per person up to a maximum of 4 people. For full details about our Weekday Workshops please click HERE
Private Weekend Workshops: These can be arranged on a mutually agreed weekend date at a cost of £250 for up to 4 people for the session.
Under 18 years old must be accompanied by an adult.
---
Available Public Dates: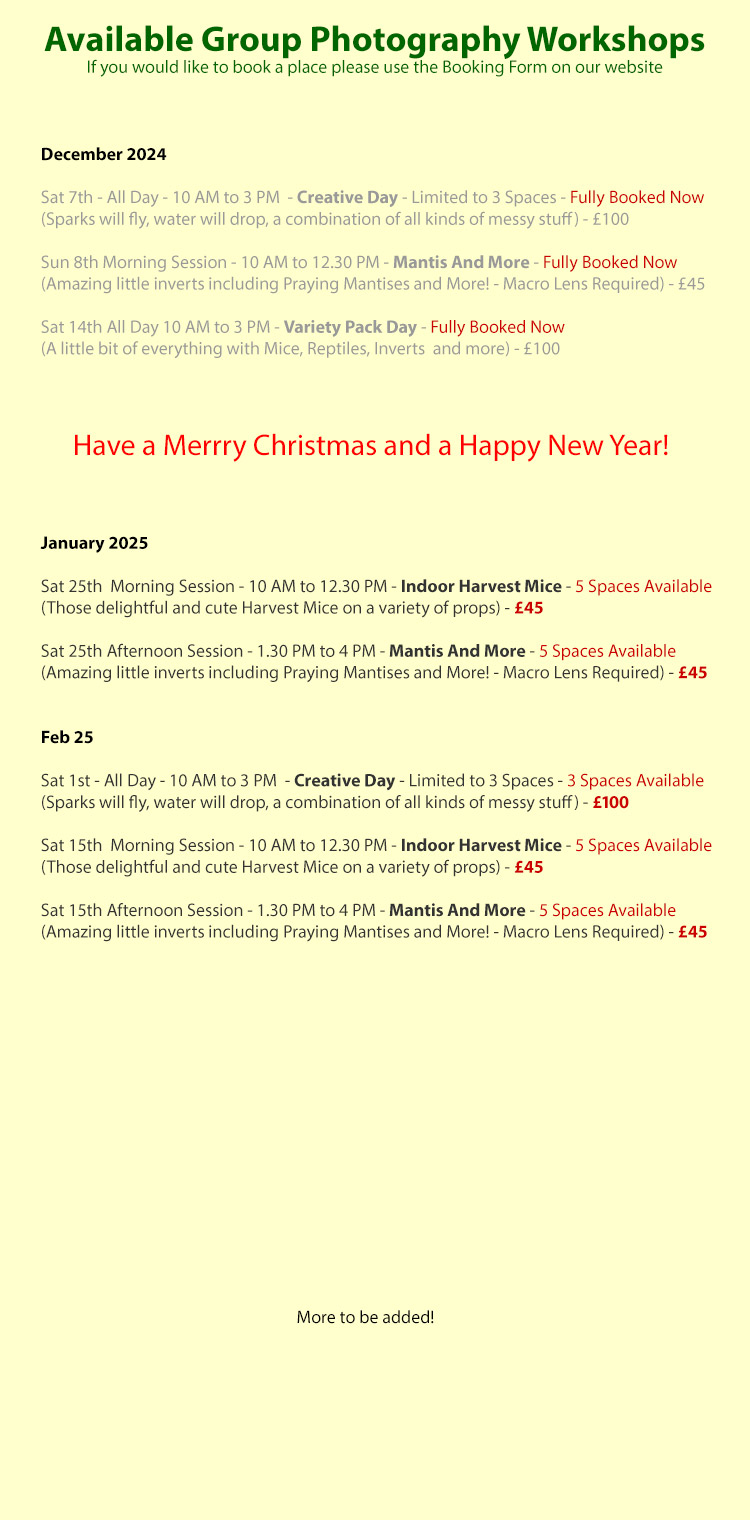 ---