Liberty's Outdoor Harvest Mouse Workshop
1st May to 30th September – Weather Dependent.
These days are held at Liberty's Centre where we take some of the Harvest Mice outside to photograph them under natural light and against natural backgrounds as the mice go about their business on a variety of natural and seasonal props and foliage. During the course of the day you will be working with an experienced friendly professional photographer to offer help and advice throughout the day making this day suitable for photographers of all levels of experience including beginners as well as more advanced photographers looking for some stunning images of these fascinating (and cute!) little creatures.
As with all our animals the health and well being of our Harvest Mice always comes first and we do not force them to do anything they don't want to do or put them in harms way with anything that might cause them distress. You are welcome to bring any props that you might want to on the day but please be aware that these will be checked for safety before being used. We do not allow the photographers or guests to have any physical contact with the animals.
If the weather is not suitable for the mice to be outdoors in the open on the day you will be offered an opportunity to photograph them indoors in our purpose built, professionally equipped,  indoor Photography Room or to return on another day.
Available Sessions are:
Morning Session – 10 AM to 12.30 PM
Afternoon Session – 1.30 PM to 4.00 PM
Location And Postcode: Liberty's Owl, Raptor And Reptile Centre, Crow Lane, Ringwood, Hampshire. BH24 3DZ   (Zoo Licence Number: 1009/2)
---
---
Recommended Camera Equipment:
These days can be enjoyed by people with just about any camera from a phone camera to a professional DSLR. We would recommend a DSLR camera, Mirrorless or Bridge Camera but we have had plenty of Compacts and Phone Cameras on these days!
Lenses we recommend are either a macro lens of around 100 mm focal length or a zoom lens of around 70 – 300 or higher focal length.
---
Cost: The weekend shared Harvest Mouse Outdoor Workshop Photo Days: are charged at £60 per person with a maximum number of 4 people attending.
Private "Weekday Workshops": These days are available as a Weekday Workshop from Monday to Friday at a cost of £75 for one person or £110 for 2 people booking together with any extra people charged at £45 per person up to a maximum of 4 people. For full details about our Weekday Workshops please click HERE
Private Weekend Workshops: These can be arranged on a mutually agreed weekend date at a cost of £200 for up to 4 people for the session.
Under 18 years old must be accompanied by an adult
---
Available Dates: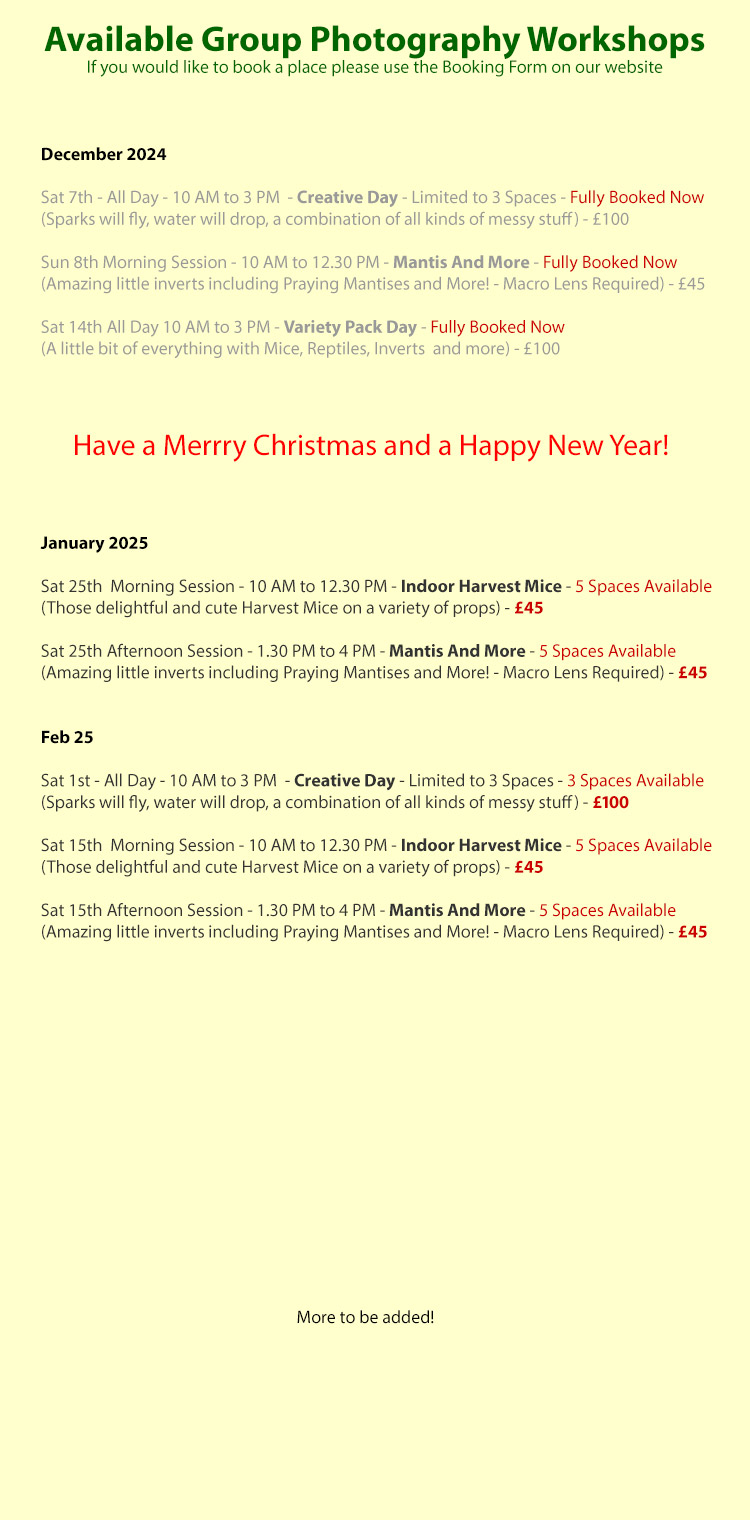 ---